Science
Video: Major Quake Shakes Chile: 8.3 Magnitude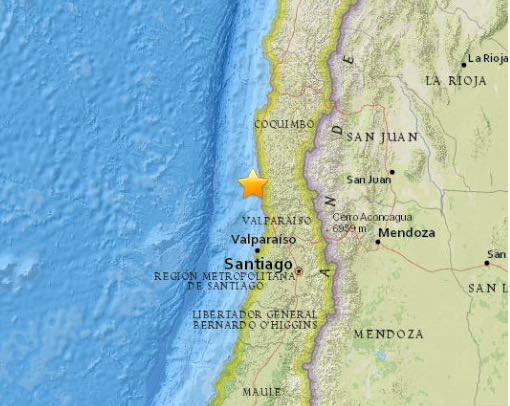 An 8.3 magnitude earthquake struck off the coast of central Chile Wednesday night, causing the Pacific Tsunami Warning Center to issue an alert.
"BASED ON ALL AVAILABLE DATA... HAZARDOUS TSUNAMI WAVES ARE FORECAST FOR SOME COASTS."
The Tsunami brought a 16-foot high wave on shore in the Coquimbo Region, but a quick reaction by emergency officials to order a million residents to evacuate saved lives. Authorities did report 10 deaths and one person missing.
You can see how terrifying the earthquake was in this video from Chile's capital city Santiago.
The earthquake, which happened at 7:54 p.m. local time (6:45 p.m. ET) was centered about 55 kilometers (34 miles) west of Illapel, Chile, at a depth of 33 kilometers (20.5 miles), according to the initial report from the U.S. Geological Survey.
At least four aftershock at a magnitude above 6.1 struck in the area within 45 minutes of the hour after the initial 8.3 quake, the USGS reported.
Lead Stories' Trendolizer is a second cousin to the seismograph. It constantly monitors social nets for the hottest trending stories about earthquakes and tsunamis. Scroll down to see the latest.